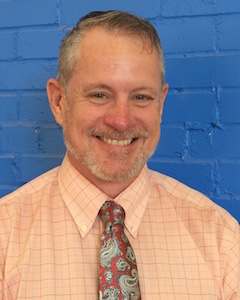 Hi there,
My name is Marco and I have been a member of the Independence Center since December of 2010. I volunteer as a member at the Center's Clubhouse Shop, which has helped me develop healthy relationships, rebuild my self-esteem, and live with dignity.
A year ago, I had the opportunity to visit Mosaic Clubhouse in London, England as part of our Colleague Training program. While there, I built relationships with members and staff from both England and Finland. Upon my departure, we exchanged e-mails and social media to stay in touch, and we still keep in touch on a regular basis. One of the members of Mosaic Clubhouse, Christiane, and I chat about twice a week. We share stories about our lives and things going on in our Clubhouses.
About five weeks ago I had the opportunity to join Weight Watchers through Independence Center's Wellness program. During our first meeting we were encouraged to have a support person. At that time I didn't know who I should ask. Per usual, when I arrived home I got online to message Christiane. I found out that she had started Weight Watchers through Mosaic only a week before me! I immediately suggested that we support each other's progress. At this time we have been in the program about six weeks and are constantly keeping tabs on each other (even sharing our favorite cheat meals). I feel so fortunate to be a part of a community that extends far beyond our borders. I know I will be more successful in reaching my goal weight with the help of Christiane and the Independence Center community.
Sincerely,
Marco
(Photo of our trip to Mosaic Clubhouse in London and Christiane is in the blue/white stripped shirt in the bottom right corner.)