Thank You For Your Support
Independence Center would like to extend a huge thank you for donating to our 2021 Dancing with the St. Louis Stars event. With your help, we raised $710,381.09!
Each and every year Independence Center relies on generous donors like you to help us continue our mission to provide all of the services and resources a person with a serious and persistent mental illness needs to manage their symptoms, find belonging and purpose, and gain the independence to live a healthy, quality life. This year, your donations have been more important than ever, so we can continue to provide key mental health services to our members even amidst a global pandemic.
We are also proud to announce our true Champion of Champions is Jim Brennan!
Jim was both our Dance Champion and Dance MVP this year bringing in over $130,000 in votes alone, and over $222,540 through corporate sponsorships, votes, and team funding.
Congratulations Jim and all of our incredible dancers!
---
Occupational Therapy Services Added for Members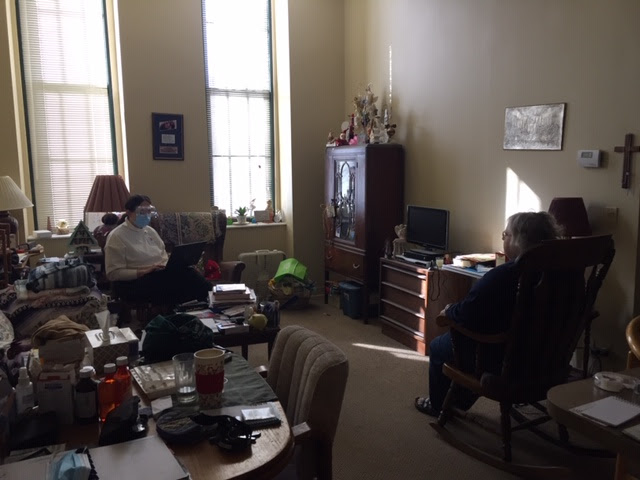 Occupational Therapy can be a key part of our members' care. Thanks to a grant received through the Marillac Mission Fund, we're now able to offer these services at Independence Center.
We have partnered with Washington University in St. Louis's Occupational Therapy program. This grant specifically supports older adults ages 65 and up by administering assessments of their home environments to ensure their safety and ability to "age in place".
In partnership with our Community Support and Clubhouse program, members meeting the requirements are assessed and given suggestions on how to make their home safer.
Appointments began in January and we are looking forward to seeing the impact these services will have on our members in the long-term.
---
February is Black History Month
In March of 2020, Independence Center started a group for members and staff called, "The Conversation Starts Here". The group is open to all and serves as a safe space to discuss racism, bias and how members and staff can promote a safer, more inclusive environment for BIPOC (Black, Indigenous, people of color) populations. This group is focused on building unity through dialogue and education and meets weekly via Zoom. The topics each week vary from book discussions, video presentations, guest speakers and so much more.
This month is Black History Month, and the group has events throughout the month to celebrate and uplift Black voices. Alongside the events, is an ongoing multimedia project aimed at capturing the intersection of racism and mental health. This project is being done in collaboration with a community support staff, Jordan Palmer, and will feature member and staff stories. Independence Center serves a majority BIPOC population and continues to advocate for better allyship and elimination of disparities.
Intake Specialist, Amber Jennings, who co-facilitates the group with Naomi Holland, says, "I am proud to be a part of this group that provides a safe space to learn and share experiences. Through our dialogue and other activities, people have gained insight, compassion and different perspectives that will help to influence a more inclusive atmosphere at the IC. I am excited to see how this group will continue to develop."